The weather has started to turn cooler here in Guangzhou – meaning the temperature has occasionally dipped below 80 degrees Fahrenheit – and we've had a lot of rain lately including narrowly missing torrential downpour from Typhoon Haima. It doesn't exactly feel like autumn here, but prepping for an upcoming Halloween party, wearing my wellies (rain boots) outside, and not needing the air conditioning 24/7 is helping get me in the fall spirit. Spring and autumn are my two favorite seasons, because I like the feeling of change in the air.I was excited to find a "pumpkin latte" recently only to discover that it had no espresso in it and involved actual pieces of chopped pumpkin stirred into hot milk. The barista pointed out that in Italy "latte" means just milk. Neither I nor the barista was exactly wrong, but I convinced him to put a couple shots in it at least.
Guangzhou really just has two seasons- hot and not so hot – but there are still differences in the rhythm of life here. I've really enjoyed seeing Chinese traditions and holidays here as well as little touches that show how people adjust to little changes in the weather and pace of life. For example, a typical Chinese greeting is "ni chi fan le ma?" ("have you eaten?") rooted in having access to food during past hard times. As the weather cools, Chinese people will caution each other to take good care and wear warm clothes. This last one makes me smile, because every time the weather dips below 80 degrees my kind Chinese friend J texts me to say that it's a cool day and to wear more clothing.Though the rain has led to a lot of curling up at home, the cooler weather has also caused Amaury and me to be more active. I've just joined a weekly Zumba class, which is a ton of fun despite the fact that my legs turn to jelly afterward. We've also been getting outside more including playing badminton (neither of us knows the rules so we play it based on ping pong rules… It's working out so far). Amaury has been out riding his bike during less rainy days and joined up with his
GZ Cycle
group recently on a 12-hour challenge ride- he rode 100km, the furthest he's done yet! This was a particularly great accomplishment, as he's just signed up to do a 115km race in Siem Reap, Cambodia in early December… he'll ride like a pro and I'll enjoy taking pictures of Angkor Wat.We were supposed to go to Hong Kong last weekend as a celebratory birthday trip for a friend, but unfortunately, our train was canceled last minute due to Typhoon Haima. Though we got very little rain here in GZ, Hong Kong was battered with severe gales and heavy rain. Thankfully, we were able to get our money back through persistent phone calls to the hotel and a trip to the train station with J who helped me navigate getting a refund.
Though Hong Kong would have been lovely, we ended up doing some staycation trips here. As we explore off-the-beaten-track places in Guangzhou, we're learning so much more about this beautiful city… and to always pack a sandwich, because local food options are often chicken feet,
stinky tofu
, and questionable meats… though I'm always down to buy a 15 cent dumpling.Last week, I took Amaury to the huge wholesale mall where everything and anything made in China is sold at dirt cheap prices. We bought some very tacky accessories for our Halloween costumes and managed not to buy too many things we don't need. Supplies included a cheap wig, fake blood, and some questionable facepaint… though Amaury pointed out that this is the same stuff we'd buy in the States, so maybe it's ok. We ended up winning the costume contest at the Marines' Halloween movie night, so I think our costumes as zombie bride and groom turned out pretty well!
I now pronounce you the Walking Dead
All right, all right. I'm sorry. I promised you more on our Seoul trip, so now I'll turn to that:I had a feeling we were going to love Seoul, because anyone I've met from there or who has been there, raves about it. We were definitely not disappointed. We opted to stay in a tiny Airbnb studio apartment in Gangnam Gu, because it cost $45 a night and promised to be in a "great location." My definition of a great location is a stone's throw away from all main tourist sites, good food, and transportation, so I assumed that this apartment would meet those criteria. Plus, Gangnam was the only Seoul neighborhood that I recognized, so I thought, that MUST be the place to stay.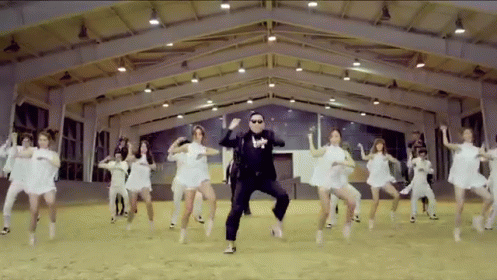 Actually, Gangnam Gu is quite far from Seoul's main tourist attractions but is a particularly stylish, affluent, and trendy spot in the city with amazing food, expensive brands, and artsy galleries. It was a GREAT location. On our first night out looking for food, our first impression of Seoul was "Wow, people here are so beautiful, young, and stylish." We felt significantly under-dressed- everyone looked like they'd just finished modeling the newest Prada collection while managing to nonchalantly seem like they'd just rolled out of bed.  Amaury kept threatening to do Psy's moves on our walk, but the threat of disowning him kept him in check.TripAdvisor was in full-force in Seoul, so we were able to find many tasty restaurants quite easily. Our first night, we devoured delicious Korean BBQ. Although it was hard not speaking or reading Korean, we were able to make ourselves understood by pointing and then managed to not make fools of ourselves by surreptitiously copying the tables around us. Though BBQ is pretty easy in any language. Just put meat on the hot thing and don't burn yourself. We did find the soup a bit confusing, however, since it came without any spoons or bowls.
Best meat ever
We spent a packed 4.5 days in Seoul, so I'll highlight four of my favorite experiences.
Thing One: Sightseeing at Korean Palaces
We visited two palaces in Seoul, Gyeongbokgung and Changdeokgung, which were both huge and stunning. Sadly, Gyeongbokgung is an accurate but modern replica, as the former palace was destroyed several times by the Japanese in the past. It was still extremely impressive and much larger than we anticipated with sprawling buildings, gardens that expanded to more gardens, and stunning vistas. We thought we'd just stop by and ended up there for a few hours.
Us at Gyeongbokgung
Changdeokgung has more of the old palace intact. We happened to run into our good friends C, J, and C's parents on that tour which was a crazy and beautiful happenstance considering Seoul is huge! It was special to explore that palace with them and catch up more following their wedding (read on for more on that).Thing Two: Seeing our good friend S 
A good friend from our grad program is originally from Seoul. When he heard we'd be there, he flew back from Singapore to spend time with us. He was pretty surprised to find us staying in Gangnam, but showed up as stylish as anyone. He took us for a huge Korean feast and then for fancy coffee. It felt like being home to hang out with him and reminisce about school:
Let us feast
Thing Three: Going to America
We spent a cozy evening playing board games with some american friends posted in South Korea at their home on the U.S. base. Having never been on a military base before, I was a bit apprehensive- I kept brandishing my passport at every checkpoint in case I needed to prove I was allowed to be there. I settled down once we stepped into our friend's neighborhood though. They live in a 1950's American suburb with American sidewalks, American mailboxes, American driveways, and huge American houses. It felt like even the air had changed into something more American. That night was quite cold, since Seoul is much further north than Guangzhou, and someone had lit their fireplace causing the night chill to smell like Fall, and Halloween, and home.
Also, you're welcome. We successfully saved the world from a 
Pandemic. 
Saving the world one card at a time
Thing Four: C and J's wedding
The main thing that brought us to Seoul (everything else being a bonus) was C and J's wedding. C and J currently live in Jakarta, Indonesia, so it was doubly nice to catch up with them about their experience there. As J is Korean, her mother planned a full Korean wedding which involved a somewhat Western-style ceremony in a large room and then an intimate, Korean traditional ceremony with just them and their parents. They invited us and their other foreign friends to watch the traditional ceremony, which was incredibly meaningful to us.
We then ate at a huge wedding buffet and later went out with them and a large group of friends for drinks and karaoke. Two of J's Korean friends took our small group of 8 foreigners under their wing and taught us how to drink soju bombs. Here's a quick recipe for my favorite the "coke soju bomb": Take a half-pint beer glass and pour half a shot of coke in the bottom, put a shot glass of soju on top of the coke inside the larger glass, pour Korean beer into the glass, do not mix! Drink the whole thing. It will first taste like beer, then cold soju, and end with sweet coke. I was so surprised at how delicious it was!
Soju bomb
Like everyone else who's gone there, I thoroughly recommend going to Seoul. In fact, we wouldn't mind living there in future. We left full, happy, and tired out from 10 days traveling.Of course, upon arriving back in Guangzhou we immediately started planning our next trips so stay tuned for future travel letters. We'll be heading to a couple beautiful places in China in November and then to Cambodia in December.PS: Happy Halloween!